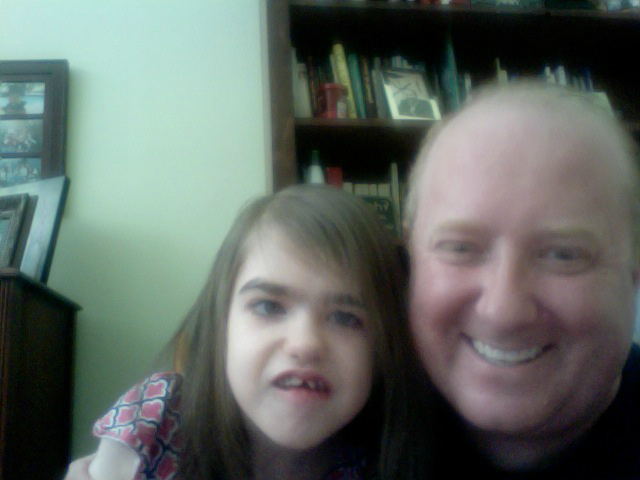 "Hug your kids, kiss your wife, and give thanks to the Lord"
When I read that 58-character tweet, I immediately clicked 'Follow' on the Twitter profile.  Here is a man I can learn from, I thought.  Here is a man who appears to have a profoundly biblical perspective on life.   True, the tweet by itself doesn't express anything extraordinary.  But then you hear the backstory.
R. C. Sproul, Jr.'s wife died less than a year ago.  And at the time of the tweet — September 30 — his fifteen-year-old daughter was about to die.  Shannon, whom R. C. affectionately called Princess Happy, was born with a brain disease called lissencephaly, which left her severely impaired.  (That's Shannon and R. C. in the picture above.  You can watch a short video of Shannon here.)  Shannon passed away three days later.
Two deaths in the immediate family within a year.  Layered grief.  Sorrow upon sorrow.  That's quite a backstory.
Over the last month R. C. has shared some of his grief on Twitter, and the blessing to me has been immeasurable.  I have benefited so much from his thoughts that I wanted to share them with others.  What follows is a compilation of numerous tweets over the past month related to R. C.'s suffering.  His journey through the valley of the shadow of death can instruct and edify us all. Read the rest of this entry »