Hug Your Kids, Kiss Your Wife, Give Thanks to the Lord
November 5, 2012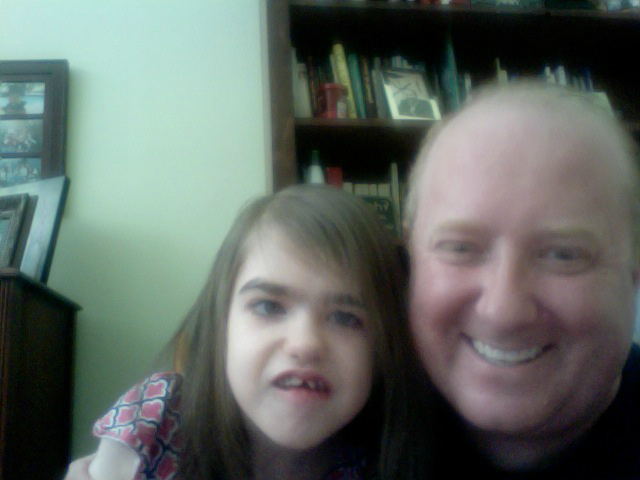 "Hug your kids, kiss your wife, and give thanks to the Lord"
When I read that 58-character tweet, I immediately clicked 'Follow' on the Twitter profile.  Here is a man I can learn from, I thought.  Here is a man who appears to have a profoundly biblical perspective on life.   True, the tweet by itself doesn't express anything extraordinary.  But then you hear the backstory.
R. C. Sproul, Jr.'s wife died less than a year ago.  And at the time of the tweet — September 30 — his fifteen-year-old daughter was about to die.  Shannon, whom R. C. affectionately called Princess Happy, was born with a brain disease called lissencephaly, which left her severely impaired.  (That's Shannon and R. C. in the picture above.  You can watch a short video of Shannon here.)  Shannon passed away three days later.
Two deaths in the immediate family within a year.  Layered grief.  Sorrow upon sorrow.  That's quite a backstory.
Over the last month R. C. has shared some of his grief on Twitter, and the blessing to me has been immeasurable.  I have benefited so much from his thoughts that I wanted to share them with others.  What follows is a compilation of numerous tweets over the past month related to R. C.'s suffering.  His journey through the valley of the shadow of death can instruct and edify us all.
Hug your kids, kiss your wife, and give thanks to the Lord (Sep 30)

As I held her body, even as it was breaking down, I knew He held us both, that we were the children put on His lap, that He was blessing. (Oct 1)

My precious girl Shannon's mute tongue is now loosed, though once lame she now leaps for for joy. She and her mom are held by our Lord (Oct 3)

Death, who has haunted my home for 15 years, struck again today. And again his prey escaped. Christ is risen, and that changes everything (Oct 3)

My Princess Happy is now a Queen of Joy (Oct 4)

We don't say, "I know You love me, unless You take my wife" nor "I know You're all powerful, unless You take my girl" Though He slay me… (Oct 4)

Shannon was the already in my not yet (Oct 5)

We do not bury her in a cemetery but plant her in a garden. The Great Gardener will come and she will bloom, incorruptible (Oct 6)

Those tempted to think it unfair that I should lose my wife and little girl in one year forget they were grace in my life. The Lord giveth (Oct 8)

Those who thought her a burden think we have received a blessing. Those that knew her a blessing know we have received a burden (Oct 9)

Grateful for and deeply proud of how each of my children so joyfully loved and served their sister Shannon. They are the best. (Oct 9)

Content again to enter into the House of Mourning. The Master of the house has always blessed me deeply. (Oct 10)

Back from my walk, I won't dress & feed her. She won't light up when I say, Shannon, Daddy's here. But she is clean & eats at a better table (Oct 13)

My bride was blessed to have never lost a child, my child blessed to have never lost a sibling. I pray the rest of my children outlive me (Oct 13)

The pain is that I've been wounded to my core. The blessing is that that is just where I needed to be wounded. I win the race by limping (Oct 16)

While I desire to be open, vulnerable and most of all helpful in my mourning, I still cry alone. Save for my Lord who cries with me (Oct 17)

What I want most is that I & mine would become more like Jesus. What I want next is to have my children w/me. The former wins (Oct 17)

While I'm sad with them, can't help but be hopeful of how God might use our losses in my children's lives. Better to be in mourning's house (Oct 19)

There is a time to mourn, with Him, and a time to dance, with Him. But lo, we are with Him always. (Oct 21)

Not saying the world needs to accommodate me but it isn't easy seeing decorative Halloween gravestones on my morning walk (Oct 22)

Though the gospel means the joke is on death still death is no joke (Oct 22)

I am, by His grace, not tempted to bitterness for what I have lost. I am driven to gratitude for what I had been given. (Oct 24)

When the world is collapsing all around you the first thing you need to do is stand firm. The next thing you need to do is the next thing (Oct 29)
Will you take a moment to pray for R. C. and his family?